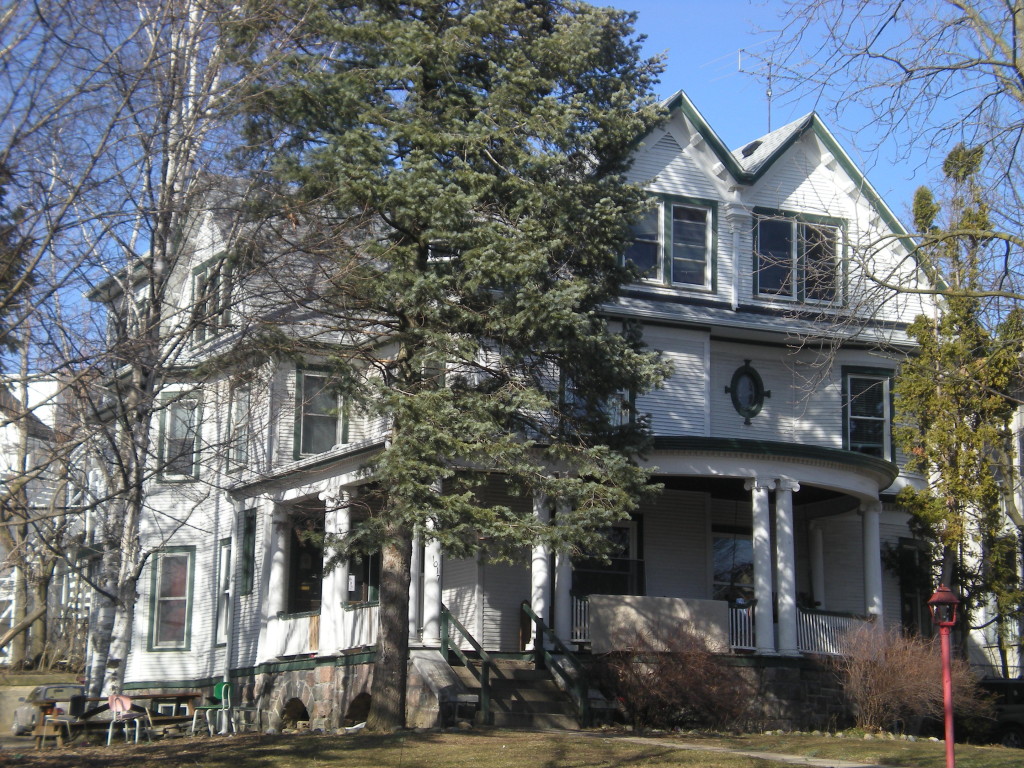 The cooperative Robert Owen House has 4967 square ft. of floor area, making it a non-conforming use. It cannot be expanded or structurally altered to prolong the life of the building. If the structure is destroyed, it cannot be rebuilt. Property Information
Co-ops that are too small to conform to the zoning code.

Black Elk  4269 sqft
Debs  3390 sqft
King 3133 sqft
Lester 3321 sqft
Linder 3684 sqft
Michigan and Minnies 3548, 3634 sqft
Half of Luther 4951 sqft
Osterweil 2500 sqft
Owen 4967 sqft
Ruths 2597 sqft
Vail 4346 sqft
Fraternities that are too small to conform to the zoning code.

Delta Chi 4990 sqft
Zeta Psi 4068 sqft
Tau Kappa Epsilon 2112 sqft
Kappa Sigma 4453 sqft
Lambda Phi Epsilon 3756 sqft
Even larger fraternities and sororities may be nonconforming because each property must have 350 square ft of lot area per inhabitant.
The city has extra rules for Co-ops, Sororities, and Fraternities that do not apply to other residents. We will abolish these rules.
The City Code of Ann Arbor states:
Student Cooperatives, Fraternities, and Sororities are not allowed in the R1, R2A, and R3 districts (A large part of Ann Arbor is covered by these three districts). 5:10.4  zoning map
For each house:
1. A resident manager shall be employed or appointed. For purposes of this section, a resident manager is one who lives on-site, serving in a regular or full-time capacity. 5:10.4
2. A minimum lot size of 8,500 square feet subject to a minimum of 350 square feet of lot area per occupant shall be provided. 5:10.4
3. The Floor area of the Structure shall exceed 5,000 square feet of usable Floor area. Single or two-family Structures containing 5,000 square feet or less on April 9, 1984 may not be converted to fraternities, sororities or student cooperatives. 5:10.4
4. A fraternity, sorority or student cooperative adjacent to a single or two-family Structure shall have a hedge, berm, Fence or wall, forming a continuous screen at least 6 feet high between it and the residential units, to be located adjacent to the Lot Line from the front of the Structure to the rear property line, except in required Front Open Space and where restricted by other ordinance provisions. Screening which continues into the required shall be consistent with section 5.26 Fences. 5:10.4
5. There must be one parking space for every five beds. 5:167
6. Chickens are only allowed in single family and two family homes. 9:42 (3)
These restrictions prevent co-ops, fraternities, and sororities from using medium and small buildings. For example, Robert Owen house has 4967 square feet of floor area and would not be allowed today. Coops like Vale are even smaller. Also, the parking requirements take up space that could be used for more rooms or other purposes.
Because the city can enforce noise and safety rules without restricting group housing, the above restrictions are unnecessary, and the Mixed Use Party will abolish them.